Description
View Marine Data Everywhere in Plain Sight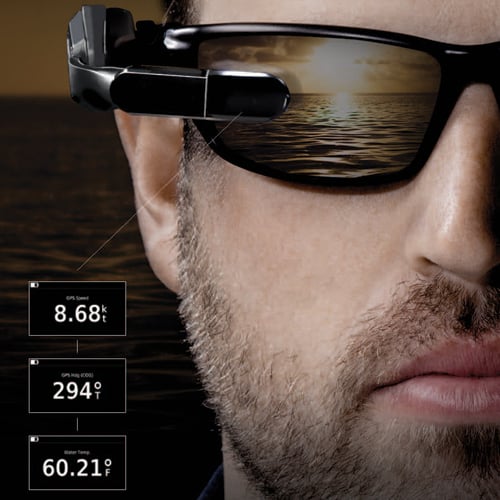 Featherweight device attaches easily to either side of most sunglasses and eyewear frames to put key marine data in your line of sight

Displays speed, heading,

distance to line, burn time,

water depth and temperature, wind direction and engine RPM streamed from a compatible onboard Garmin device

Provides hands-free, in-view display to enhance situational awareness
Glove and wet-weather?friendly touch panel allows you to swipe between data displays
Colour display ensures readability in all conditions; can be worn with polarised or prescription lenses
Garmin Nautix in-view display keeps important marine?data in plain sight?, no matter whether?your sight is directed on the boat or horizon. Now you have a convenient reference that displays critical boat data at all times. Fishermen can keep an eye on water temperature or depth, boat speed and RPM. Sailors can watch the race start countdown timer and other advanced racing data. And if away from the helm, such as when on the bow dropping anchor, you can still keep an eye on things.

Made for the Marine Environment
Durable, weatherproof design is built to withstand harsh marine environments. The touch panel is glove?and wet-friendly so you can rotate through data screens even in rain or sea spray. A simple swipe of your finger across the bar changes display screens.
Stay Informed 360? Around Your Boat
Pair Garmin Nautix with a compatible Garmin marine electronics device to receive information from up to 5?data screens. These include speed and heading, speed over ground, wind angle and speed, water temperature and depth, engine RPM and distance and bearing to next waypoint. And sailors can even view advanced racing data, hands-free, including countdown timer, time to burn and start line information.?
Advanced Technology in a Featherweight Design
Innovative mounting technique allows you to attach the lightweight Nautix in-view display to either side of your favourite eyewear frames. It works with both polarised and prescription lenses; however, it is not recommended for wire frames. Fully adjustable arm allows you to position the display in your optimum viewing position, either below or above your direct line of sight, without being an obstruction.
Garmin Nautix is compatible with GNX Wind marine instrument, GPSMAP 7400 series chartplotters and GPSMAP 8400 Series Glass Helm multifunction displays.
?For situational awareness only. Users should view data on the display at a glance and should always focus on surroundings.
Physical Specifications
Dimensions: 2.4" x 0.77" x 0.78" (60.0 mm x 19.7 mm x 19.8 mm)
Weight: 1.1 oz (29.7 g)
Display resolution: 428 x 240 pixels
Battery life: 8 hours
ANT+® connectivity: Yes
Water rating: IPX7
Mounting: Ambidextrous
Touch Panel: Yes
Sensors: Ambient light and accelerometer
Garmin Nautix In-view display
Four?each of the following band sizes: X-large, large, medium and small
2 mounts for glasses
Charging cable
Carrying bag
Manuals