Description
The information you need to make confident decisions
Includes Garmin GNX Wind and GNX 20 marine instruments, gWind Wireless 2 transducer and Airmar DST810 thru-hull smart transducer
GNX Wind and GNX 20 instruments have highly visible monochrome LCD displays
gWind Wireless 2 transducer eliminates running wires through masts up to 50 feet
DST810 thru-hull smart transducer provides water depth, water speed and water temperature data plus attitude sensing for heel/trim and pitch/roll inputs
Wireless connectivity to devices with Bluetooth technology enables DST810 calibration directly through Airmars Cast app
Easy plug-and-play installation with NMEA 2000 network
Know the wind and water
With a GNX Wireless Sail Pack, you will have all the equipment you need to know whats going on with the wind and the water.
GNX Wind instrument
GNX Wind gives you the wind data necessary to make confident decisions. Featuring high-visibility, glass-bonded backlit monochrome LCD display with customisable backlight colours, GNX Wind interfaces through the NMEA 2000 network to show 2 data fields and a digital wind rose simultaneously to display true and apparent wind data, steering guidance, boat speed and more. Low power consumption of 350 mW daylight (no backlight) and 400 mW night-time (mid-level backlight) is perfect for sailboats. Customisable user settings allow you to configure the screen layout to your preferred setting. Display configurations include more than 15 important marine parameters for wind, speed and navigation. It can even wirelessly connect to a quatix 3 GPS marine smartwatch via ANT technology to stream wind data directly to your wrist.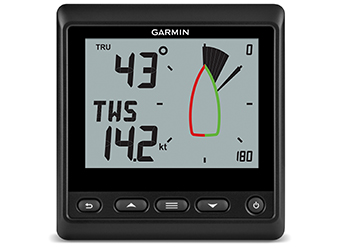 gWind Wireless 2 transducer
gWind Wireless 2 offers an easy-to-install solution that eliminates running wires through masts up to 50 feet. Accurate wind signals are sent via an ANT connection directly to a GNX Wind instrument or to a compatible Garmin GPSMAP chartplotter. The transducer features renowned Nexus twin-fin technology with a 3-bladed propeller, providing accurate wind speed and stable wind angle in lighter wind conditions.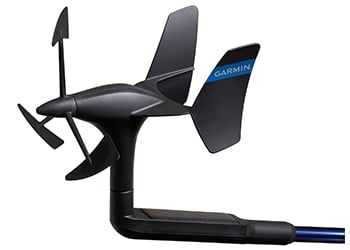 GNX 20 marine instrument
The easy-to-read GNX 20 display with black digits on a white or colour background clearly shows water depth, boat speed through the water, water temperature and 50-plus marine and boat parameters through the NMEA 2000 network. Customisable user settings allow you to choose from 5 available display configurations for sailboat or powerboat user profiles: single, dual and triple function plus gauge and graph mode to display wind, depth and speed data, or customise the pages to display the marine and boat data most important to you. Its glass-bonded display with anti-glare lens coating provides excellent daytime and night-time readability with high-contrast digits scalable up to 36 mm. Uses only 25 mA with 350 mW daytime usage requiring no backlight and just 400 mW with a mid-level backlight setting at night.
Airmar DST810 thru-hull smart transducer
DST810 combines precise depth, speed and temperature data with attitude sensing for heel/trim and pitch/roll inputs which it provides to the NMEA 2000 network and GNX 20 instrument. This multisensor transducer can read depths to 330 feet, offers fast 5 Hz water speed signal output and has an operating frequency of 235 kHz with a fan-shaped beamwidth of 10 x 44 degrees. Additionally, wireless connectivity to devices with Bluetooth technology enables DST810 calibration directly through Airmars Cast app. Advanced speed calibration allows for calibration at multiple heel angles and speeds.
1 Requires additional heading sensor.
The Bluetooth word mark and logos are registered trademarks owned by Bluetooth SIG, Inc. and any use of such marks by Garmin is under license.
gWind Wireless 2 transducer
GNX Wind marine instrument
GNX 20?marine instrument
Airmar DST810?thru-hull smart transducer
2 NMEA 2000 drop cable (2 meters)
NMEA 2000?power cable
5 NMEA 2000 T-connectors
NMEA 2000 terminators
NiMH battery
Mast bracket
Mounting hardware
Documentation